White Papers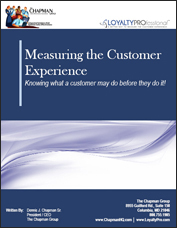 Measuring the Customer Experience
Knowing what a customer may do before they do it!
Finally, customers have been identified as the most important foundational pillar for business sustainability, and rightly so! It is the customer who can fire anyone, in any corporation, at any time, by taking their business elsewhere. Successful customer-centric organizations have learned that the primary driver of long term customer / supplier relationships is creating and sustaining extraordinary customer experiences. And the only way to truly understand what customers perceive as "extraordinary" is to ask customers: what constitutes extraordinary and how does the experience your organization provides rank against their "supplier scorecard"?
Grow Customer Loyalty, Grow Profits
Utilizing Customer Loyalty Metrics to Build Long-term Account Relationships
The single most predictive indicator of future growth is the degree of dependency that your existing
customers have toward you. Most corporate leaders know that it costs more to find a new customer than to grow an existing one, yet they operate by a mantra that says, "We always need more new customers!" When it fact, it is the current base of customers that will drive revenue growth. Explore how increased customer loyalty is the single most important driver of increasing overall corporate revenue and achieving greater financial performance.
Clients, Customers, Buyers; Which Do You Have?
An Approach to Account Segmentation and Servicing
The time has arrived to develop clarity, focus and unique servicing models on those select accounts that are the life-blood of our business' future. This white paper is intended to stimulate thoughts and action processes to meet the challenge of "profitably" servicing and in-turn retaining, acquiring and developing a unique portfolio of accounts; locally, nationally and globally.
Resources Available:
White Papers

Blog (Strategic Account Management Blog)